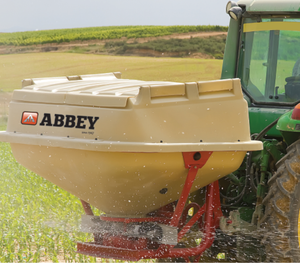 Polyester hopper with easy removal of hopper facilities, heavy duty frame and quick attach system on all models. Range of extensions available up to 1450L capacity.
Simple manual adjuster with infinite graduated adjustments for the required applications to maximise grass growth. Anti-corrosive stainless steel fixed and rotating disc. Oscillating agitator which ensures even flow of material, easy adjustment of spreading width with a co-efficient of variation of 5% is achievable.
Now available is a 'polyester cover unit' which protects the fertiliser while in the hopper.
Abbey Twin Disc Fertiliser Spreader
Polyester hopper – no rust or corrosion – allows a smooth delivery to the spreading unit

Easy removal of hopper facilitates routine cleaning and maintenance of spreader.

Heavy duty frame on all machines with quick attach system on all models.

Range of extensions available up to 1450L capacity.

Oil filled gearbox built from modular graphite cast housing and hardened bevelled gears ensures years of trouble free running.

PTO drive incorporates shear bolt protection.

Slow moving agitator prevents grinding of the fertiliser and delivers a consistent flow through the outlets in the stainless steel base.
Metal Twin Disc Fertiliser Spreader
This is our new metal hopper twin disc fertiliser applicator. This machine utilises the same spreading unit as the polyester hopper twin disc with the ability to spread up to 24 meters, it comes in a range of sizes from 1000kg up to 1700kg. There is no division in the hopper thus ensuring an even application of fertiliser to each spreading disc.
POA