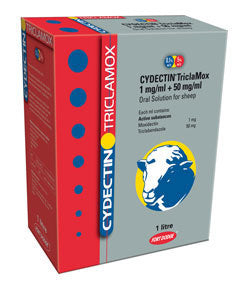 Cydectin TriclaMox 1 mg/ml + 50 mg/ml Oral Solution for Sheep
Presentation
Oral Solution.
A clear yellow to brown liquid.
Each ml contains:
Active substance:
Moxidectin 1 mg
Triclabendazole 50 mg
Excipients:
Benzyl alcohol 40 mg
Butylhydroxytoluene 1 mg
Uses
For the treatment of mixed nematode and fluke infections in sheep, caused by moxidectin and triclabendazole sensitive strains of:
The product has a persistent efficacy and protects sheep against infection or re-infection with the following parasites for the period indicated:
Clinical trials, after experimental and natural infection, have shown that the product is effective against certain benzimidazole resistant strains of:
Haemonchus contortus
Teladorsagia circumcincta
Trichostrongylus colubriformis
Cooperia curticei
Dosage and administration
For oral use:
Should be given as a single oral drench of 1 ml/5 kg bodyweight, equivalent to 0.2 mg moxidectin/kg bodyweight and 10 mg triclabendazole/kg bodyweight, using any standard drenching equipment.
To ensure a correct dosage, body weight should be determined as accurately as possible; accuracy of the dosing device should be checked. If animals are to be treated collectively rather than individually, they should be grouped according to their body weight and dosed accordingly, in order to avoid under or overdosing. All animals in a group should be treated.
Contra-indications, warnings, etc
Do not use in cases of hypersensitivity to the active substance(s) or to any of the excipient(s).
Care should be taken to avoid the following practices because they increase the risk of development of resistance and could ultimately result in ineffective therapy:
- Too frequent and repeated use of anthelmintics from the same class, over an extended period of time.
- Underdosing, which may be due to underestimation of bodyweight, misadministration of the product, or lack of calibration of the dosing device (if any).
Suspected clinical cases of resistance to anthelmintics should be further investigated using appropriate tests (e.g. Faecal Egg Count Reduction Test). Where the results of the test(s) strongly suggest resistance to a particular anthelmintic, an anthelmintic belonging to another pharmacological class and having a different mode of action should be used.
Resistance to macrocyclic lactones has been reported in Teladorsagia in sheep in a number of countries. In 2008, throughout Europe, moxidectin resistance is very rare; it has been reported in a single case involving a levamisole-, benzimidazole and ivermectin-resistant strain of Teladorsagia circumcincta. Resistance to triclabendazole has been reported in Fasciola hepatica in sheep in some European countries. Therefore the use of this product should be based on local (regional, farm) epidemiological information about susceptibility of parasites, local history of treatments and recommendations on how to use the product under sustainable conditions to limit further selection for resistance to antiparasitic compounds. These precautions are especially important when moxidectin is being used to control resistant strains.
This product should not be used for the treatment of single infections.
In the absence of compatibility studies, this veterinary medicinal product must not be mixed with other veterinary medicinal products.
Signs of overdoses have not been seen at 3 and 5 times the recommended dose. However, if they do occur they should be consistent with the mode of action of moxidectin and/or triclabendazole and would be manifested as transient salivation, depression, drowsiness, ataxia and reduced food intake 8 to 12 hours post-treatment. Treatment is not generally necessary and recovery is generally complete within 1 to 5 days. There is no specific antidote.
This product is safe for use in breeding animals.
Withdrawal period
Meat and offal: 31 days
Milk: not authorised for use in ewes producing milk intended for human consumption including during the dry period. Do not use within 1 year prior to the first lambing in ewes intended to produce milk for human consumption.
Operator warning
Avoid direct contact with skin and eyes.
Wash hands after use.
Do not smoke, drink or eat when using this product.
Wear impermeable rubber gloves during use.
Other precautions regarding impact on the environment
Moxidectin fulfils the criteria for a (very) persistent, bioaccumulative and toxic (PBT) substance; therefore, exposure of the environment to moxidectin must be limited to the extent possible. Treatments should be administered only when necessary and should be based on faecal egg counts or evaluation of the risk of infestation at the animal and/or herd level.
Like other macrocyclic lactones, moxidectin has the potential to adversely affect non-target organisms:
Pharmaceutical precautions
Do not store above 25°C. Protect from light. Do not freeze.
Do not use after the expiry date stated on the carton and label after "EXP".
Shelf-life after first opening the immediate packaging: 6 months.
When the container is broached (opened) for the first time, using the in-use shelf-life which is specified on this package insert, the date on which any product remaining in the container should be discarded should be worked out. This discard date should be written in the space provided on the label.
Any unused veterinary medicinal product or waste materials derived from such veterinary medicinal products should be disposed of in accordance with local requirements. Do not contaminate watercourses with the product as this may be dangerous for fish and other aquatic organisms.
Keep out of the sight and reach of children.
For animal treatment only.