Purofort Professional Wellington boots are designed to provide safety and comfort around your farm in a durable, long lasting boot and all at a reasonable price.
Safety in an agricultural environment.
Purofort Professional boots are designed with all the dangers of a farming environment taken into consideration. Falling materials, working with heavy machinery, working with livestock, slip, trips and sharp objects can all lead to accidents and a loss of productivity.
Comfort of wearing

Purofort Professional

 

Wellington

 boots.
Farmers can work long days in harsh weather conditions and having warm dry feet are a necessity. Purofort Plus are also designed to support hips, backs, knees and ankles.This is done to reduce discomfort after a hard days work.
Value for money
All boots in thePurofort Professionalrange are made with value for money in mind. In the design stage a strong emphasis was put on designing a highly durable and high quality product at a very reasonable price.
Purofort Professional

compared to other boots.
Purofort Professionalboots are manufactured using Dunlop's unique Purofort technology which gives it many advantages over boots made from materials such as PVC or rubber.Purofort Professionalboots will last twice as long, will weigh 35% less and will provide insulation in temperatures 60% colder that other boots will.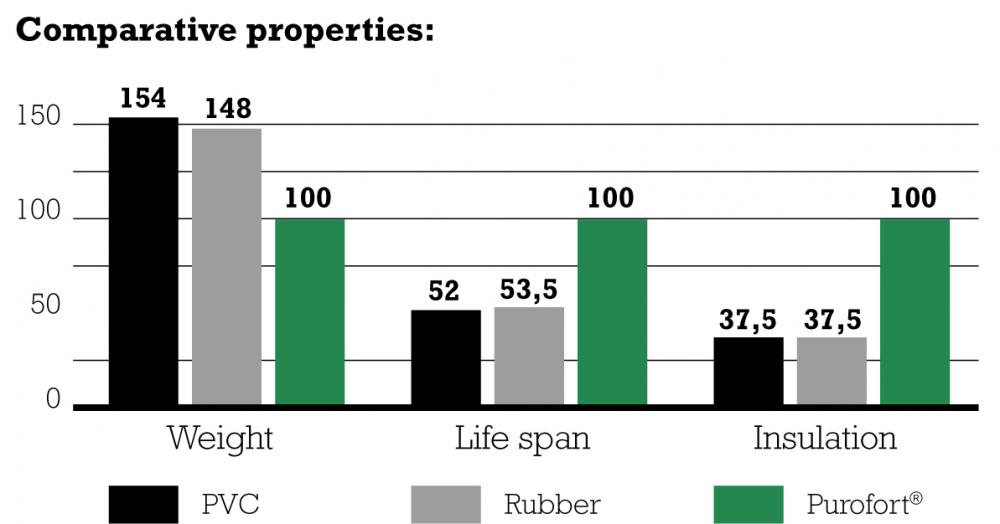 Features of 

Purofort Professional Wellingtons
Flexible and supple even at very low temperatures

Shock absorbing

Seamless inner lining to prevent irritation of skin

Specially shaped insole to give support and comfort

Amazing insulation that can keep feet warm at up to -20 degrees Celsius

35% lighter than other materials that are used in the production of boots such as PVC and rubber

Lasts up to twice as long as traditional boots

Highly resistant to minerals, animal & vegetable oils and fats, disinfectants, manure, solvents

Specially designed sole to be shock absorbent and to prevent slips